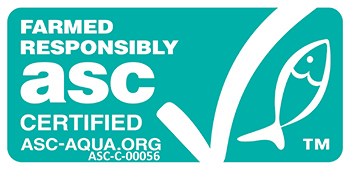 "Seacore is ASC Certified"
ASC is the acronym for Aquaculture Stewardship Council, an independent not for profit organisation. The ASC was founded in 2010 by WWF and IDH (Dutch Sustainable Trade Initiative) to manage the global standards for responsible aquaculture, which are developed by the Aquaculture Dialogues, a program of roundtables initiated and coordinated by WWF.

What is the ASC
The ASC aims to be the world's leading certification and labelling programme for responsibly farmed seafood. The ASC is a global organisation working with aquaculture producers, seafood processors, retail and foodservice companies, scientists, conservation groups and the public to promote the best environmental and social choice in seafood.
The ASC's aquaculture certification programme and seafood label recognises and rewards responsible aquaculture.

What the ASC does
Working with partners, the ASC runs an exciting and ambitious programme to transform the world's seafood markets and promote the best environmental and social aquaculture performance. Our standards seek to increase the availability of certified responsible seafood. The ASC's credible consumer logo assures compliance and makes it easy for everyone to take part.

What the ASC achieves
More than a standards holding body, the ASC is a global transformation system for aquaculture, which achieves:
Credibility: the standards are developed according to ISEAL guidelines, multi-stakeholder, open and transparent, science-based performance metrics.
Effectiveness: minimising the environmental and social footprint of commercial aquaculture by addressing key impacts.
Added value: connecting the farm to the marketplace by promoting responsible practices through a consumer label.
For more information, please visit: www.asc-aqua.org
We offer our OceanPrime ASC Certified Basa Fillets (Pangasius)