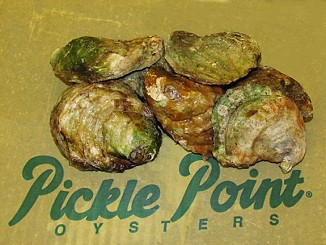 Pickle Point Oysters
Crassostrea virginica

Characteristics
3-3.5 inches in size
Choice oyster
100 count per case
Farm-raised
Harvested in Hope River, P.E.I.
Fresh
Product of Canada
Ocean Wise Recommended
A beautiful farmed raised oyster with ivory lips, glistening meats and heavy, thick shell. These 3 to 3.5 inch small choice oysters are raked as seed from P.E.I.'s remote icy waters and transferred to Pickle Point in new London Bay for finishing. Pickles sit firmly in your palm, are a breeze to open and will deliver the firm salty taste you desire. Most influenced by the tidal flow from the Hope river, they distinguish themselves from others in the area by spending much of their growth out in cages along the shoreline. When winter hits the hardest, they are moved to deeper water and then cut from the ice until the saw can reach no more.
---
OceanPrime Sustainable Seafood info:


> Best Choice
> Land-based Farms
> Canada
> Sustainable Seafood Item No. to Order
Click here for official SeaChoice assessment information
---





* Available weather permitting