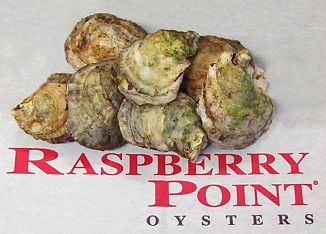 Raspberry Point Oysters
Crassostrea virginica

Characteristics
3-3.5 inches in size
Choice oyster
100 count per case
33 count per case avaiable X-LArge, like 80ct size
Harvested in P.E.I.
Fresh & Farmed
Product of Canada
Harvested from one of the most northern stocks of oysters in North America, these oysters take 6-7 years to reach market size. Raspberries are constantly manicured throughout the growth process to produce a perfect 3 to 3.5 inch choice oyster that is a must have on any raw bar. They have a wonderful salty taste, clean flavour with a delightful sweet finish. Availability is typically strong year round except when moving ice and severe weather prevents harvest.
This item is Ocean Wise approved.
---
OceanPrime Sustainable Seafood info:


> Best Choice
> Farmed
> Sustainable Seafood Item No. to Order
Click here for official SeaChoice assessment information
---





* Available weather permitting