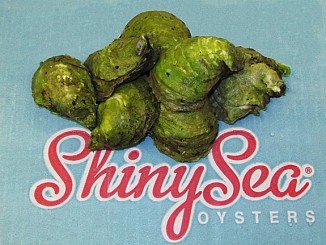 Shiney Sea Oysters
Crassostrea virginica

Characteristics
2.5-3 inches in size
Choice oyster
100 count per case
Farm-raised
Harvested in New London Bay, P.E.I.
Fresh
Product of Canada
Ocean Wise Recommended
This cocktail grade oyster is the newest flavour offered from the skilled oyster growers in new London Bay. Handled extensively in their stages of growth and harvested at a young age, the Shiney Sea oyster presents itself beautifully on the half shell for the delicate oyster slurper. Quintessential flavours from native food sources flowing in from several small tribtaries around the bay define this brand grown for you by farmers. Shiney Sea oysters take approximately 4 to 5 years to reach their market size. The cups are full with plump meats that have an immediate salty taste and end with a subtle, sweet finish.
---
OceanPrime Sustainable Seafood info:


> Best Choice
> Land-based Farms
> Canada
> Sustainable Seafood Item No. to Order
Click here for official SeaChoice assessment information
---





* Available weather permitting