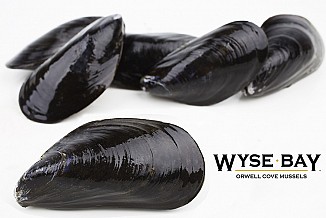 Wyse Bay Orwell Cove Mussel
Mytilus edulis
Characteristics
a Fresh Catch® Seacore exclusive!
Large Atlantic Mussel
Sushi Name: Muurugai
3 to 5 " in length
Hard, oval shaped shell
Cultured
Available in a 10 LB Bag
Fresh
Spawning season is in latter part of Spring Click here for more information
Fresh harvested in P.E.I. in the Atlantic Ocean
Product of Canada

Ocean Wise Recommended
---

WYSE BAY ORWELL COVE MUSSELS.
Wyse Bay Orwell Cove Mussels is a Canadian brand of mussels takes pride in producing the highest quality mussels. Through our high standards and precise craft in rope culturing mussels, we can offer a mussel product that tastes great and is available all year long.
GENUINE PEI MUSSELS.
Wyse Bay Orwell Cove Mussels are farm raised in the most pristine environment for a mussel - Prince Edward Island. What distinguishes our Wyse Bay Orwell Cove Mussels form the rest is that they are hand crafted and selected for their size, shape and meat yield. This allows our Orwell Cove Mussels to produce a truly great tasting product with quality unrivaled in the world.
SUSTAINABLE PRACTICES.
An important part of our Wyse Bay Orwell Cove Mussels is utilizing the most sustainable practices available. Through the traditional rope culturing techniques, our Orwell Cove Mussels have proven to have very little affect on the natural environment and in fact have garnished a Green ranking from SeaChoice and are Ocean Wise Recommended.
Our Commitment to achieving sustainablity goals are:
Reduce energy usage and energy-related carbon dioxide emissions
Reduce waste and water use
Reduce packaging waste
Reduce noise impact at marine sites
Maintain bio-diversity of the marine eco-system

---
OceanPrime Sustainable Seafood info:


> Best Choice
> Farmed - Suspended Rope Cultured
> PEI Product Only
> Sustainable Seafood Item No. to Order
Click here for official SeaChoice assessment information