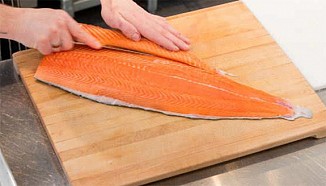 Kuterra Salmon
Salmo salar
Characteristics
Atlantic Salmon that is land raised
First Canadian Salmon farmed on a land based farm
Stress Free growth, which yields firm texture and excellent taste
Chemical free, Antibiotic Free & no contact with the marine environment
Farm-raised on Northern Vancouver Island in B.C.
Available as whole, butterfly, steaks, portions or fillet
Fresh
Product of Canada
Ocean Wise Recommended
Visit www.kuterra.com for more information.
This Atlantic Salmon is Ocean Wise recommended.



Kuterra Salmon Product Information