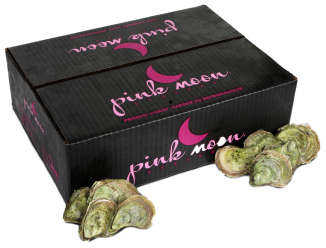 Pink Moon Oysters
Crassostrea virginica
Characteristics
2.5-3 inches in size
Choice oyster
100 count per case
Harvested in P.E.I.
Fresh & Farmed
Product of Canada
Ocean Wise Recommended
Pink Moon Oysters are harvested in PEI from one of the most northern stocks of oysters in North America. They are cocktail size ranging from 2.5 to 3 inches in diameter and are available all year long except when severe winter weatehr prevents the harvest. Pink Moon Oysters have a wonderful, salty taste with a clean flavour and a delightful sweet finish.
---
OceanPrime Sustainable Seafood info:


> Best Choice
> Farmed
> Sustainable Seafood Item No. to Order
Click here for official SeaChoice assessment information
---





* Available weather permitting