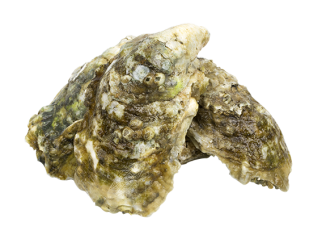 Rappahannock River Oysters
Crassostrea virginica
Characteristics
3-3.5 inches in size
Premium Choice oyster
High-end oysters
100 count per case
Very consistent oyster in quality and size
Sushi Name: Kaki
Farmed in Virginia
Live
Product of U.S.A.

Ocean Wise Recommended
The Rappahannock River remains a remarkably pristine waterway, with vast stretches seemingly unchanged since European settlement – 61% of its watershed is still forested, 35% is in cropland, leaving a mere 4% designated 'urban.' What makes the location so unique for oysters is its tie to the freshwaters of the Blue Ridge Mountains. The farm is situated near the mouth of the Rappahannock, where the full force of the river meets the Chesapeake Bay. The influence of the mineral rich freshwaters is unmistakable and accounts for the oyster's trademark 'sweetness.' The low salinity (a mere 15ppt) gives you a hint of the sea while allowing the complexity of the animal shine through. Since flavor depends less on what you eat, but rather what you eat ate, it's critical to have a healthy, diverse system in which to grow. The lower salinities not only afford you more diversity, but a lower dose of salt so that you can truly taste that diversity.
---
OceanPrime Sustainable Seafood info:


> Best Choice
> Farmed, Suspended Culture
> International
> Sustainable Seafood Item No. to Order
Click here for official SeaChoice assessment information
---





* Available weather permitting