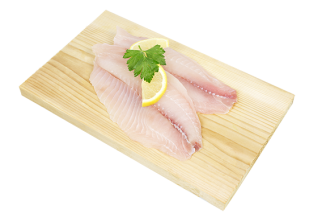 Tilapia
Tilapia galilaea
Characteristics
Also known as St. Peter's Fish
Available as whole or deep skinned fillet
Fillets are pinkish in colour
Fillets are available in a variety of sizes 4-6, 5-7, 7-9 & 9-11 oz
Fresh and Frozen
Farm-raised in brackish water inland
Product of USA, Ecuador, Honduras, Columbia and China

This item from Ecuador, Canada & USA is Ocean Wise approved.

* Ontario Farmed Tilapia
---
OceanPrime Sustainable Seafood info:


> Best Choice
> Land-based Farms
> Canada, USA & Ecuador Product Only
> Sustainable Seafood Item No. to Order
Tilapia Fillet Fresh: 786280
Tilapia Fillet 4-6: 785960
Tilapia Fillet 5-7: 786040
Tilapia Fillet 7-9: 786120
Click here for official SeaChoice assessment information
---
* Note: Tilapia from other countries may not be considered sustainable. When ordering please use the Item No. listed here to ensure you are purchasing sustainable seafood.
---



Product Information OceanPrime Tilapia
Product Infromation Ontario Tilapia