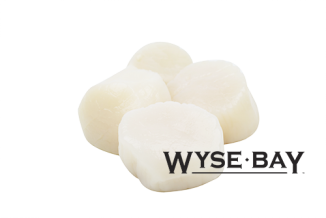 Sea Scallop
Aequipecten magellanicus
Characteristics
Also known as Atlantic Scallop or Giant Scallop
Sea Scallop is the most commonly known scallop
Sushi Name: Hotate
Available only in a 'Dry' natural meat - no preservatives or chemicals ever added
We do not sell 'Wet' - chemical or soaked scallops which are commonly found in the marketplace at a lower price and inferior quality
Available in a count/LB: U-10 or 10-20
Fresh
Wild
Caught in the East Coast in the Atlantic Ocean
Product of Canada or U.S.A.only

We offer a selection of USA Sea Scallops that are Ocean Wise Recommended.
---
OceanPrime Sustainable Seafood info:
> Yellow Choice
> Wild Dredging
> USA only
> Sustainable Seafood Item No. to Order
Fresh U/10: 677121
Fresh 10/20: 677161
Click here for official SeaChoice assessment information
---
---
CAUGHT IN NORTH AMERICA.
Wyse Bay Artisanal Scallops are wild caught in the north eastern coast of North America between New England and New Brunswick. By taking advantage of this environment which is known to be the best in the world for scallops to grow, Wyse Bay Artisanal Scallops yield a truly remarkable product. Our Artisanal Scallops are a premium seafood product and we make sure every process of our cold chain is designed to delicately handle these delicacies of the sea.
NO MOISTURE ADDED . . . EVER.
Wyse Bay Artisanal Scallops are all natural as the oceans and seas intended. This means, that no moisture at all is added to our Artisanal Scallops. You can instantly tell this distinction as soon as you cook our Artisanal Scallops. They will have a significantly smaller shrinkage and the taste will be all pure scallop. Even when raw, they will not have a chemical or slimey touch to them as some scallops currently do in the market place.
SUSTAINABLE PRACTICES.
An important part of our Wyse Bay Artisanal Scallops is utilizing the most sustainable practices in catching our Artisanal Scallops. Whenever possible, we use diver caught scallops, but due to the high demand of our scallops, we still use the dredge method of catching them. This allows Wyse Bay to offer our fresh Artisanal Scallops all year long. As a result, our Wyse Bay Artisanal Scallops have a Yellow ranking from SeaChoice.
Our Commitment to achieving sustainablity goals are:
Reduce energy usage and energy-related carbon dioxide emissions
Reduce waste and water use
Reduce packaging waste
Reduce noise impact at marine sites
Maintain bio-diversity of the marine eco-system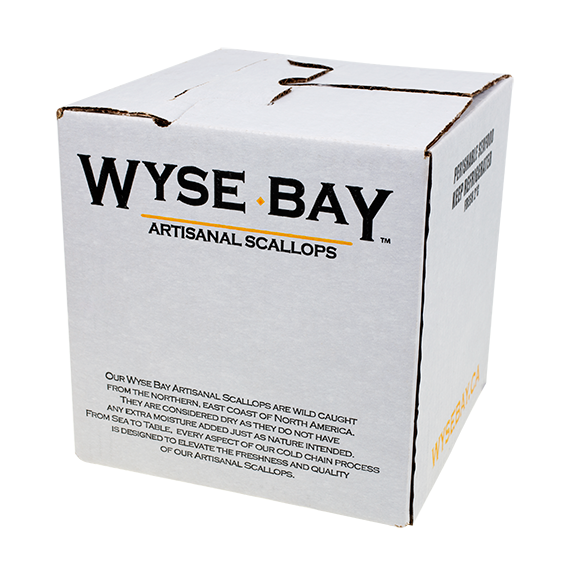 ---
OceanPrime Sustainable Seafood info:
> Yellow Choice
> Wild Dredging
> USA only
> Sustainable Seafood Item No. to Order
Fresh U/10: 677121
Fresh 10/20: 677161
Fresh 20/30: 677201
Frozen U/10: 677450
Frozen 10/20: 677640
Frozen 20/30: 677890
Click here for official SeaChoice assessment information
---